Bridge between jewelry and watches
Chopard
With in-house calibers, diamonds, complications like a minute repeater and a tourbillon, Chopard is a completely new way of looking at wristwatches. The Swiss manufacturer creates the most elegant and sporty designs while the watch looks like jewelry and the in-house caliber features some complications like a perpetual calendar. You can even get your hands on a watch with moving diamonds on the dial from Chopard. How cool is that?
Founded by Louis-Ulysse Chopard
The history of Chopard
Chopard is around since 1860, when the 24-year-old watchmaker Louis-Ulysse Chopard started producing and selling watches under the name L.U.C. The brand quickly made name, with clients like the Swiss Federal Railways. In 1915, when Louis-Ulysse passed away, his son Paul-Louis took over the company. They've set up a shop in Geneva Switzerland so that they could meet the criteria for the Geneva Seal.
Paul's son, Paul-André, inherited the company 30 years later, but had to sell the company another 20 years later since no one was interested in taking over the business. Since the Germany Karl Sheufele III bought the company, Chopard has become one of the most successful companies in the luxury watch market.
The Iconic Chopard
The Chopard Mille Miglia
One of the most iconic watches in the Chopard collection is the Mille Miglia. Available as a GMT, these watches feature a black dial and a stainless-steel tachymeter bezel. This watch will cost you close to €2.000, all the way up to €5.000 for a never worn piece.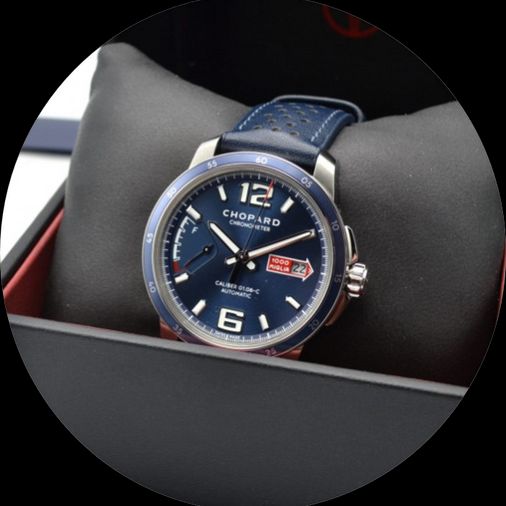 Most complications on this Chopard
the L.U.C
Watches in the Chopard collection with the most complications and features, are the L.U.C watches like the Complications or the Grand Complications. These in-house movements come with chronometer certification and bear the Geneva Seal: the mark of quality reserved for only the best watches made in the Swiss canton of Geneva. With numerous watches in the L.U.C collection available, prices also vary with these watches.
Starting at €7.400 for the stainless-steel version, this is the most affordable watch. You can also spend some more: this timepiece boasts 14 complications, including displays for the sunset and sunrise, orbital moon phase, tourbillon, 24-hour scale and equation of time. And it only costs €400.000.